Past Updates :
Since this is our first year in existence (and for posterity's sake), you can track the exciting growth of our organization by viewing past updates to the website.
Multicultural Health Fair - April 24th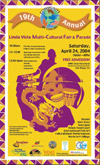 On Saturday, April 24 from 11am-3pm, APAMSA will be participating in the Linda Vista Multi-Cultural Fair in Linda Vista. The purpose of this street fair is to celebrate the cultural diversity of the area. We will share a table with the Union of Pan Asian Communities and offer a mini "health fair" where vital signs will be taken and health information on hepatitis and more will be offered.
Come out to the fair for food and entertainment. There will be lots of different ethnic food and entertainment (Haiwaiian dancers, circus performers, dragon dance, Philippino dance troops, Latino dance troops and much more). There is also a parade at 11am to kick off the fair.
For more information, visit www.lindavistafair.org or contact Carie>>
Update -
general update - posted on 4-20-04
APAMSA has a lot of events and activities coming up. Vicki and Jeff have met with UPAC regularly to discuss ways which APAMSA can better serve the Asian community. Dr. James Tomita, UPAC board member, has extended an offer to APAMSA members for dinner on May 12th. Check the projects page for information on the upcoming multi-cultural fair and bone marrow drives. Also, the Stanford regional APAMSA conference will be held on May 8th. Housing will be provided courtesy of Stanford and UCSF students. If you're interested in carpooling, UCLA will provide carpools.
Update -
faculty sponsor - posted on 4-19-04
We have a faculty sponsor! Dr. Jeannie Huang, MD. MPH. has volunteered her time to be our organization's faculty sponsor. Thanks Jeannie.
Update -
Psychiatric Issues panel - posted on 2-10-04
Margaret was able to organize a screening of a short educational film she helped produce on the subject of chronic depression in the Asian community. Afterwards, a professional panel consisting of Asian psychiatrists, community physicians, and other health care professionals led a discussion about depression and other psychiatric illnesses faced by Asians in particular. Take a look here>>
Update -
Shanghai City social
-
posted on 12-8-03
Our first social event was held at Shanghai City on Friday, December 5. A great time was had by all as we all enjoyed good food, great company, and free boba! Check out the pictures here>>
Update -
posted on 12-3-03
The APAMSA sponsored field trip to the Shiley Eye Clinic was a huge success! A good-sized group of people visited the clinic to hear a presentation given by Dr. Laura Brody on the unique I-Mobile project. We also got a tour of the I-Mobile and of Shiley itself
Update -
posted on 11-20-03
A few dedicated members of APAMSA met with Dr. James Tomita from the United Pan Asian Council to discuss ways in which APAMSA could get involved in the community. Photos are here>>