The purpose of the UCSD Health Sciences Institute: Research Methodology Training Lab (RMTL) is to train students from disadvantaged backgrounds to conduct research in a biochemical science lab to prepare them to enter graduate programs in the health sciences addressing health disparities.
During the summer, students participate in a structured program (6 weeks for high school and 8 weeks for undergraduate and community college students) where they develop an original research project, write a report and prepare a presentation to take to conferences. In addition to their projects all students are exposed to lectures on health disparities research. Undergraduate and community college students receive lectures on preparation for graduate school, while high school students participate in an SAT prep course. Students may continue their research during the academic year.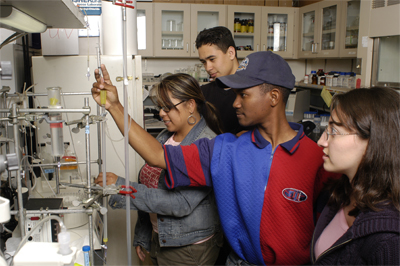 Accomplishments
Only 28% of Underrepresented Minority (URM) students who enter postsecondary institutions nationally choose a major in the biomedical field. In contrast, 76% of RMTL students are retained in the biomedical sciences.
Additionally, RMTL has a 100% graduation rate from high school and university. There is only a 76% high school graduation rate for students from similar backgrounds at the national level. Of those RMTL students who graduate from university, 53% are in graduate or professional programs and 19% are currently applying. Only 4% of URMs nationally reach this level of educational attainment.
For the Summer 2012 program, eligible students must be participating in an HCOP/SDRC program and attending one of the following High Schools:
| | | |
| --- | --- | --- |
| Castle Park High School | Crawford High School | El Cajon Valley High School |
| Hoover High School | Mar Vista Senior High School | Morse High School |
| Mount Miguel High School | San Diego High School | Southwest Senior High School |
OR

have participated in prior HCOP/SDRC research and academic activities.
Contact Anita Williams at akwilliams@ucsd.edu for more information.
[ Top ]